Afro-Contact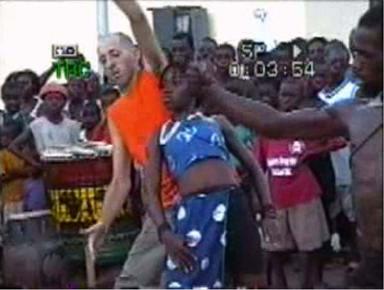 Adam Gottlieb, an emerging professional dancer / choreographer from Canada, has created a new website to promote his teaching and performance work and there are a number of his adventurous ideas that intrigued and excited me. He has given me the permission to reprint this introduction to the collaborative work he has been doing combining African based dance forms and CI. Check out his website, www.adamnet.org/dance.htm for other interesting workshops including Ecology-Based dance, collective composition, and more. -MZ
There are a couple of things I've noticed about contact improv jams and performances: they are largely done by and marketed to light-skinned Euro-Americans; and, when this usually-silent dance is accompanied by music, it tends to be new age, worldbeat, or modern-classical. I am curious to dance with and for people of all cultures. I feel a particular affinity with African-rooted people and music – from hip-hop to djembe drumming – and find that they share with contact improv a raw, compelling, physical and emotional energy grounded in everyday life.
In 2005, I launched "Hip-Hop Meets Contact Improvisation," including weekly jams for Montrealers and occasional intensives for locals and out-of-towners alike. The dancers gave me a picture of something beautiful and powerful to come...

In 2006, I made my first trip to Africa, to get closer to the source of that feeling. In Cape Coast, Ghana, I worked for three weeks with Asanti Dance Theatre. We exchanged teaching, and created a one-hour show blending traditional Ghanaian dance with contact improv. The dancers and the 300-plus people who watched were thirsty for something new.
Hip-hop and African dance will continue to meet contact improv, here and in Africa. If this speaks to you and you are ready to make it, I want to work with you. I can host you in Montreal, come to you, or meet you partway.

-Adam Gottlieb
addances@yahoo.ca

Point of Contact: A new online CI newsletter from Madison,WI


Conceived of and edited by Nataraj Hauser, this thoughtful newsletter
features articles, photos, local jam notes, poems, and helpful links.