6/25/06
There are very few CI videos to be found online at the moment, a trend that I believe is about to change. But meanwhile, here is one by French videographer/photographer
David Olivari
, that I recommend. Though it is a few years old, this twelve minute interview with
Karl Frost
includes workshop footage of demonstrations and jamming and is a nice introduction to contact for those who are new or looking for something to show your friends/family who have never seen Contact Improvisation before:
---
6/23/06

Ken Manheimer, based in the Washington DC area, has created a wiki (A website which allows users to add and edit content collectively) in which he has a large section devoted to Contact Improvisation called "Fostering Contact improv". Within he discusses subjects such as the balance point, What's So Great About Improvisation, his local jam's discoveries, and other central CI skills. He's made some interesting observations. Here's the link:


---
6/20/06
Underscore Solstice 2006 - June 24/25



For the last few years there has been an annual simultaneous practice of Nancy Stark Smith's Underscore (a framework for CI and improvisational practice) in locations around the globe including Europe, Australia, and the USA. This year on June 24/25 again there will be an opportunity for those practicing CI and the Underscore to connect to a larger community of those engaged in the same process of research in other cities, countries or continents.




For information on the details of this event including where and when each participating group will be practicing click

HERE

to contact the organizers e-mail:

underscoresolstice@yahoo.fr
---
6/11/06
This year NIM (Nordic Improvisation Meeting) took place in Brandbu, Norway. Being the first NIM that I've attended I learned a lot about the history of this wonderful gathering and had a fantastic time. The very first NIM happened in Stockholm, Sweden and was Initiated in 1996 sitting in a bar in Oslo by dancers
Måns Erlandsson
,
Roy Ramberg
, and Sidsel Pape. The idea was to create an event for Scandinavian dancers that would happen once or twice a year as an opportunity to dance together, exchange ideas, network, perform, and to grow the sense of community. Over the years NIM has taken place in Sweden, Finland, Norway, and Denmark. This year there were over 70 dancers from all these countries plus England, Scotland, Spain, USA, Germany, and Austria.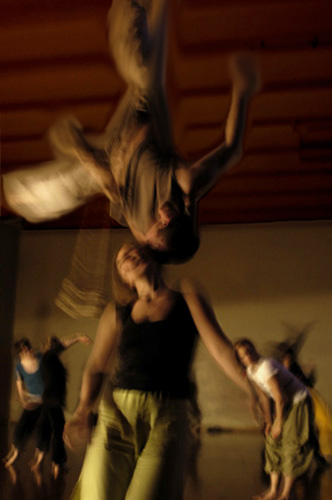 Maja Kjellerås & Jami Quarrell



Organizers Ingeborg Dugstad Sanders, Hilde Rustad & Ingrid Remmen rented out

V

estoppland Folkehøgskole (Folk Highschool

) for the five day event. In Norway, folk highschools are an innovative educational idea that has taken off- nongrade based places for teens to go and focus on a special interest after their regular high school training is finished.

V

estoppland

Folkehøgskole has a focus on Aikido, Martial Arts, and Meditation, so it proved to be a perfect location for a NIM to be held. With beautiful studio spaces including an Aikido dojo, a meditation room and two wooden floored studio

s, there was plenty of space for dancing and diverse offerings of classes and labs. The setting was equally inspiring, set amidst mountains, lakes, forests, and farmlands, with sunlight lasting till 11:30 at night and then only getting somewhat dark before daylight arrived again around 3am. Great for late night jamming and early morning fire circles.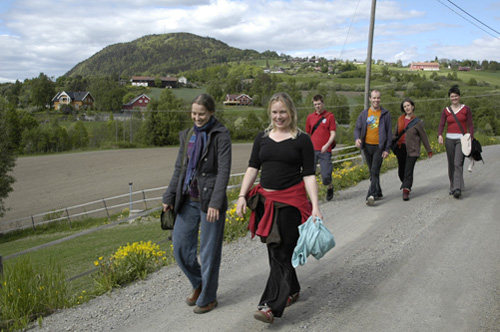 Throughout the whole jam I had a feeling of the generous spirit that everyone came with. People took care of themselves and each other with much compassion and joy. There was a regular space for bodywork to happen in, as well as people who offered morning yoga and meditation. Walks to the lake happened often (including a blind/mute walk that never quite made it to the lake!) as people were inspired to enjoy the entire warm week of sunshine that we were blessed with. Musicians including myself created diverse atmospheres for evening contact jams as well as many spontaneous music jams, song sharings, and Stevie Wonder breakout sessions!


Bjarne Iestra & Katrine Kirsebom


NIM Co-founder, Måns Erlandsson, was here at this NIM interviewing many participants on camera for a documentary about the history of NIM which will include footage shot at several other NIM events. Finally after departing from Brandbu, he went to Oslo to meet with co-founders Roy and Sidsel in the auspicious bar where they met ten years ago, this time to interview them for the documentary. He plans to have it finished to show at the upcoming NIM anniversary. The next NIM will mark the 10 year anniversary and will take place near it's Stockholm birthplace the second week of November, 2006. For updated information about NIM, see www.kontaktimprovisation.se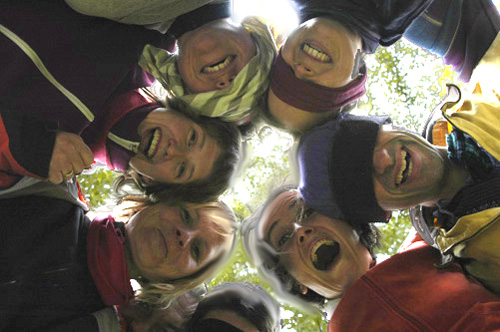 Sara Christophersen,Irene Rothmund, Myriam Peyrard, Mark (Moti) Zemelman, RonjaVerkasalo, Heike Wippich
For more Photos from the Norway NIM click
HERE
---
6/9/06
Here are a couple pictures from the workshop I taught in Helsinki. For more Pics from Finland click
Here
Panu & Tiina-eerika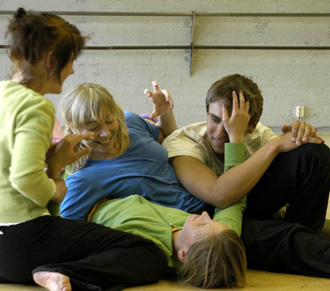 Tiina-eerika, Katri, Iiris, & Jarno