Cuddle Parties!


Here's an exciting new approach to the age old art of cuddling (Contact Improv's close cousin)! As a connoisseur of safe touch I was very impressed with
cuddleparty.com
. Representing a new trend in ways to find nurturing touch in our society, REiD Mihalko and Marcia Baczynski started hosting cuddle parties in 2004 with great success. On their website you'll find a calendar of their events held around the globe, led by REiD, Marcia and other trained facilitators. Below you can read an introduction to cuddling in their own words. Hurray for touch!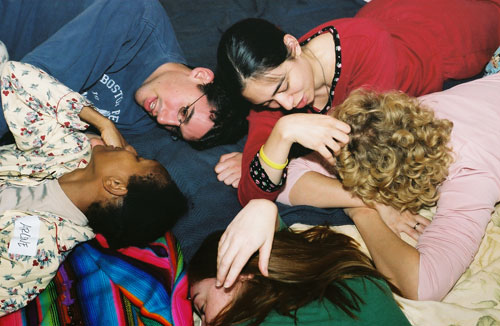 2005 ©JamesBeeler/BlackStarImages.
What's a Cuddle Party? you ask. Well, that's a good question. Cuddle Party is a playful social event designed for adults to explore communication, boundaries and affection. Facilitated by a "Cuddle Lifeguard on Duty," who creates a comfortable, non-threatening environment, it's a great place to make new friends and to learn about yourself.
In a society that is increasingly touch-phobic, many of us aren't getting our Recommended Daily Allowance of welcomed touch. For many people, the only options for getting their touch needs met consist of paying for a massage, having a drunken hookup or getting a pat-down from airport security. Cuddle Parties seek to change that in a way that's conscious, healthy and nutritious.
People come to Cuddle Party events for all sorts of reasons. Some are really touchy-huggy types who can't wait to be in an environment where that's okay. Others are more skittish and aren't even sure that they want to cuddle. Some people come to work on their boundaries with the opposite sex. Some come to make new friends, or to practice their communication skills. Some even come just to take a nap!
Whatever your reasons for coming, Cuddle Party is the perfect playground for exploring new ways of connecting with others and discovering more about yourself. Come to a Cuddle Party, and get back in TOUCH!