Workshop in Atlanta (Decatur) Georgia

With Flying Colors:
Elevated States of Body, Mind & Spirit in Contact Improv



A Weekend Workshop with MOTI ZEMELMAN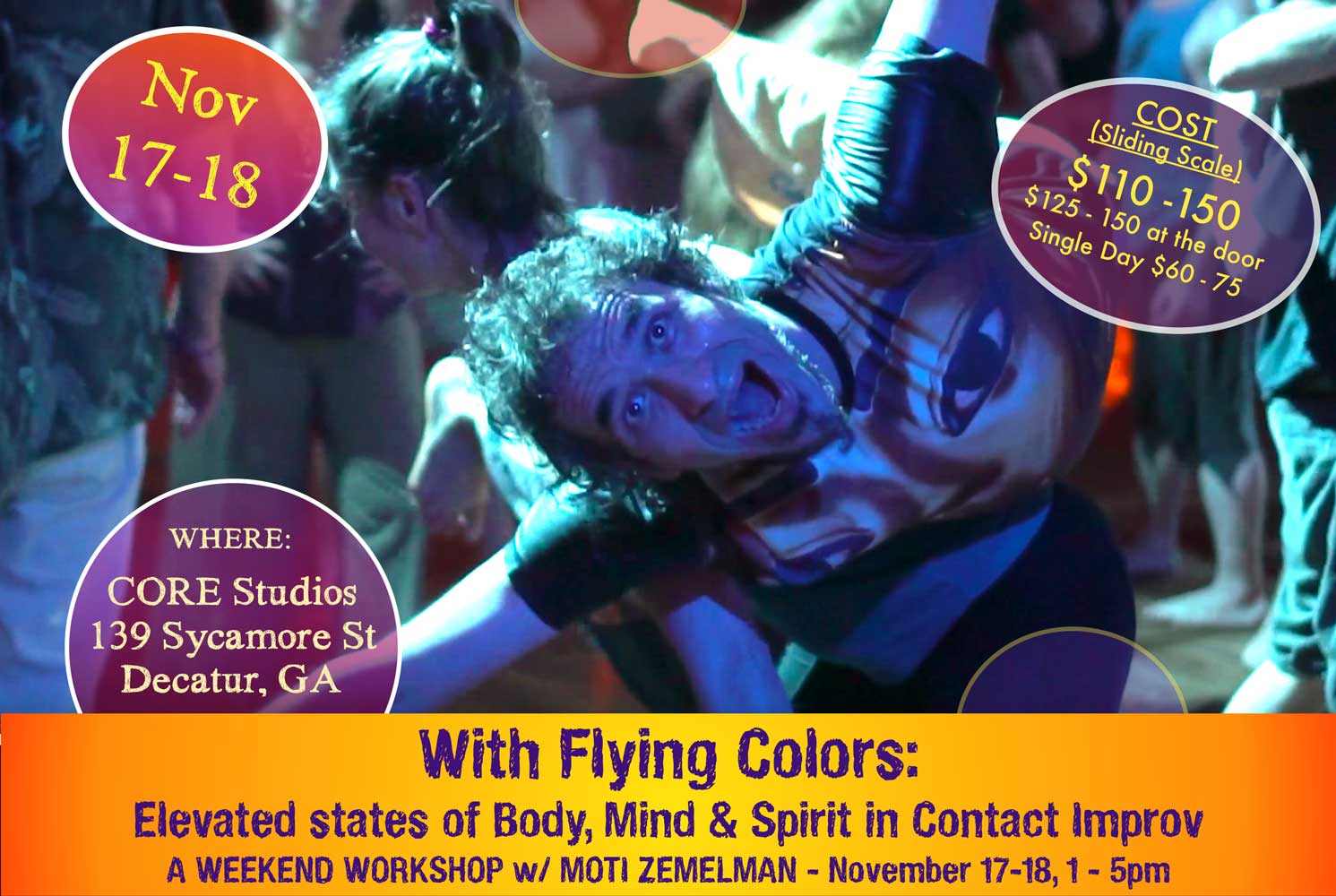 WHEN: Saturday & Sunday November 17-18, 1-5pm

WHERE: CORE Studios, 139 Sycamore St. Decatur

INFO: moti@contactimprov.com

or call 413-475-2651
---
With Flying Colors:
Elevated States of Body, Mind & Spirit in Contact Improv
In this Autumn Contact Improv workshop we'll explore lifts, weight-sharing and the dynamics of flight – feeling both the physical and emotional security necessary to soar. Learn to develop more comfort with heights, being upsidedown, and using momentum through the air. Learn to communicate and distinguish between enthusiastic consent and "grin and bear it" body language. Learn to decypher subtle invitations to lift or be lifted and feel the authentic "yes" or "No". To be heard is a basic human need. True listening in the dance and in life requires 100% of our attention. Learn to listen with your whole self. Trusting partners in lifts builds intimacy and so as we get "high" with each other we deepen our connections.
---
MOTI ZEMELMAN, MFA
As your host and teacher I bring 30 years of CI experience to share. Based in Montague MA, I have taught and performed across USA, Canada, Costa Rica, Mexico, Europe and Israel. Over the last 10 years in my desire to integrate communication and intimacy skills in teaching and life I have studied Non-violent communication, Tantra, Butoh, Byron Katie's "The Work" and most recently Betty Martin's "Wheel of Consent". I have been both a teacher and a board member at Earthdance Retreat Center in Plainfield, MA where I currently direct the Touch&Play Festival. I am a featured dancer in Sanford Lewis' documentary film about CI "An Intimate Dance." I also design and moderate the international Contact Improv resource website www.contactimprov.com.
---
Workshop Cost Options are on a sliding scale:
| | | | |
| --- | --- | --- | --- |
| | Early-bird | | Pay at the door: |
| | $110 -150 | | $125 -150 |
Registration/Payment Options:
1. To pay by Credit Card call Moti at (413) 475-2651
2. Or Send a check to:

Moti Zemelman
15 School St. #107
Montague, MA 01351
3. Or Pay by paypal below: